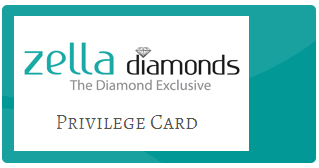 Privilege Card is our way of expressing gratitude to our loyal customers. It gives you access to an exclusive World of Benefits and privileges which can make shopping even more delightful, rewarding and fulfilling. With the intention of building a strong relationship with our valuable customers, we are launching exclusive shopping privilege of Zella Privilege Card

To earn reward points the customer will have to show the card at the time of purchase. Equivalent amount of points will be credited on to the card by staff.
ZELLA PRIVILEGE CARD
Our Zella Privilege Card will recognize your Valued Purchase by offering you a host of treats.
USE THIS CARD ALWAYS FOR ANY PURCHASE FROM ZELLA DIAMONDS
Benefits of a Privilege Card Holder
A direct Purchase of Rs 1000/- will earn you 10 reward points
Any Referral Purchase (Purchase by the persons referred by you)worth of Rs.1000/- will earn you 4 reward points.
Important:
Referral rewarded points will be credited only once for each referral purchase.
Introductory Offer:
You can win 100 points directly on any purchase worth of Rs.5000 and above within first three months of our opening.
Other Benefits
Discount on future Diamond Jewellery purchases from Zella
Invitations to exclusive events, sale previews and a few surprises too
Free maintenance of your Zella Diamonds jewellery.
Fast and prompt delivery of orders.
Receive latest promotional brochures and newsletters.
Terms and Conditions
You must produce your privilege card at all times to enjoy the benefits and privileges.
The card is not transferable.
Should the card be lost or stolen, please call our Customer Service number 0495 2727507 immediately.
Zella Diamonds reserves the right to suspend, withdraw or terminate the services of the card or modify these terms and conditions.
All disputes regarding Privilege Card are subject to Calicut Jurisdiction.
Simply remind us to take your details next time you make a purchase with Zella Diamonds, and we will keep a record of your spend. We'll let you know when you are close to becoming the owner of fabulous gifts from ZELLA.